Shahbaz Malik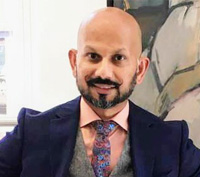 Shahbaz completed his medical degree from Cardiff University after obtaining a BSc in Biomedical Science at St George's University of London. He undertook Foundation training in London and then completed Orthopaedic training at the Birmingham Orthopaedic Training Programme in 2018.
Following this, Shahbaz pursued his passion for Sports Medicine by firstly completing a Fellowship in the Arthroscopy unit at The Royal Orthopaedic Hospital, Birmingham. He then went onto the Pan Am clinic in Winnipeg, Canada where he spent a year with Prof. Peter MacDonald and Dr Jamie Dubberley doing Sports Surgery and Upper Limb reconstruction. Shahbaz completed the PSSF in 2020 with Mr Peter D'Alessandro where he focussed on all aspects of Shoulder and Upper limb surgery as well as soft tissue knee reconstruction.
Shahbaz is currently a Consultant at Worcestershire Acute Hospitals NHS Trust where his focus is on Shoulder Surgery and Upper Limb Trauma. He particularly enjoys teaching and has established an international course on Basic Biomechanics in Orthopaedics (BBiOrth) and has published a book on it as well as written several other book chapters. He is also a keen researcher with several publications.
Outside medicine, Shahbaz is happily married with two wonderful boys and enjoys keeping fit whilst fund raising. He has trekked Mount Kilimanjaro peak and Everest Base Camp. He has also run several half marathons and cycled around UK & Europe.
---